Philippine Earring Fashion Jewelry - Jewelries feather fashion earrings with various colors and designs.
For more information about our products here
Copyright2002



copyright © 2000 JUMBO PACIFIC All rights reserved • powered by JUMBONET®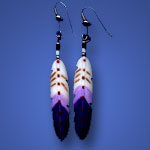 (JPE032) Earrings with Feather pendants in violet blue combination.
(JPE031) Earrings with feather pendant in yellow combination.