Cheapest Wholesaler and Manufacturer of all Jewelry Boxes
Probably the cheapest wholesale and supplier of all Philippine jewelry box as an gift items. This shell jewelry boxes is best for personal fashion decoration mostly for your personal jeweleries. Jumbo Pacific's jewelry boxes are made from natural seashells, woods and many more.
Jumbo Pacific's Jewelry Box collection was made from the high quality materials known from nature. All jewelry boxes beautifully hand-made from the world-class shell crafters. Proudly made in the Philippines.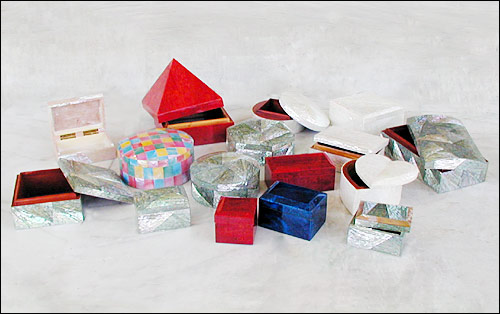 Choose from our gallery of designs. If you're interested about our products, please email us below.
Code: JPJB001
Size: 7.7cmL x 5.3cmW x 4.7cmH
Box covered with Green Abalon and Brown Lip shell in cracking design rectangular box.
Code: JPJB002
Size: 8.5cmL x 6cmW x 5.5cmH
Blue seashells rectangular box.
Code: JPJB003
Size: 5.5cmL x 5.5cmW x 5cmH
Red seashells square box.
Code: JPJB004
Size: 7.7cmL x 5.3 cmW x 4.7cmH
Green Abalon shell cracking design
rectangular box.